Tip Forming: ONEX RF tip forming systems can form a wide variety of materials required for the toughest medical applications.
Hole Punching: ONEX RF Hole punching systems use conventional punching dies and or 27.12MHz technology, designed to form the hole with smooth finish without burrs, sharp edges or particulates.
ONEX catheter tipping systems are very flexible and easy to setup. Below you'll find various examples of RF Tip Forming Applications.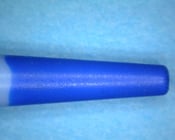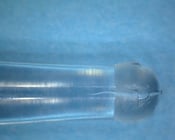 Our new Tip forming platform TF-803-X2/4 is designed to record coil position and for various models making it easy to setup and validate the process.
Our 2 Up Platform is designed to handle all size tubes and 4 Up Platfrom is designed to handle sizes below 1/4" OD tubes.
If you are looking for a dedicated system for one or two sizes we can fine tune the coil to give you the outmost efficiency and process speed that outperforms all other tipping systems.
We also offer a 2kw at 50-250KHz and 2.84kw at 450KHz generator in our compact control enclosure to meet various customer requirements.
Materials Formed:
Polyvinyl chloride (PVC)
Acetate (EVA)
Nylon (PA) or Polyamide
Polytetrafluoroethylene (PTFE)
Polyethylene (PE)
Polypropylene (PP)
Ethylene Vinyl
Polyurethane (PU)
Polyetheretherketone (PEEK)
Sizes:
The tip sizes range from 26 gauge (0.018") to 15mm (0.590") OD and can be formed in seconds.