ONEX RF Automation offers extensive experience in machine building and catheter tip forming and hole punching applications for our medical customers. ONEX RF is proud to introduce our latest tip forming equipment.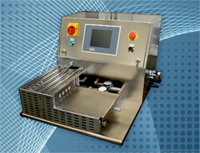 After extensive evaluation and analysis, we have identified the following as common problems with tip forming equipment:
Process inconsistency
Changeover difficulties
Variations after changeover
We have developed patent pending solutions that eliminate most problems customers have in the field. Our new system is designed to form 4 catheters at a time. The forming operation is controlled by 2KW solid state generator and the process is controlled by an industrial PC controller.
The ONEX RF team has a thorough understanding of the medical field and process development, capability to design and manufacture equipment and processes that will ease your manufacturing problems, and dedication to provide our customers with unmatched customer service. We look forward to discussing your manufacturing needs with you and working with you to exceed your expectations.
Written by
Onik Bogosyan