Catheter Tip Forming Process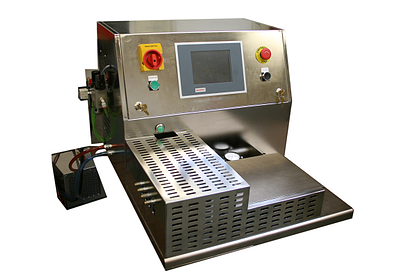 ONEX RF brings forth extensive experience in RF welding, forming and process automation. Our goal is to work with our clients in bringing new and better solutions in the catheter forming, punching and printing industry.
We are here to push the limits and capabilities to levels only imagined in the past.
ONEXRF uses PC Based Process Control
ONEX RF's PC based controls allow our customers to monitor the process and perform basic SPC. Through the 6" touch screen HMI operator can access and perform all kinds of set up or experimental functions when designing new catheter or validating new process parameters. The process comes with built in USB and Ethernet comunication ports that alows online support and process tuning.
We have developed user friendly interface screens that give enormous flexibility in controlling and validating the processes.
Auto Screen - Used for the main operation, which displays all process parameters and critical messages.

Manual Screen - Used for manual interaction and operation with selected stations

Setup Screen - Used for setting up process parameters Timer values, Power and validation limits

Maintenance Screen - Used to display the Input and output status and is used to set the timers for scheduled maintenance alarm

Alarms Screen - Used mainly to show the alarm log allowing to acknowledge the selected alarm messages.

ONEX RF Support- Used to connect to ONEX RF site for online support for troubleshooting (internet access is required).